These Asian inspired marinated cucumbers will remind you of your favorite takeout joint without having to Door Dash.
Oh hey Spring, I see you peeking out. You better stay and hang out a while. It's been a winter of heavy comfort food to get us through these crazy times – at least for me.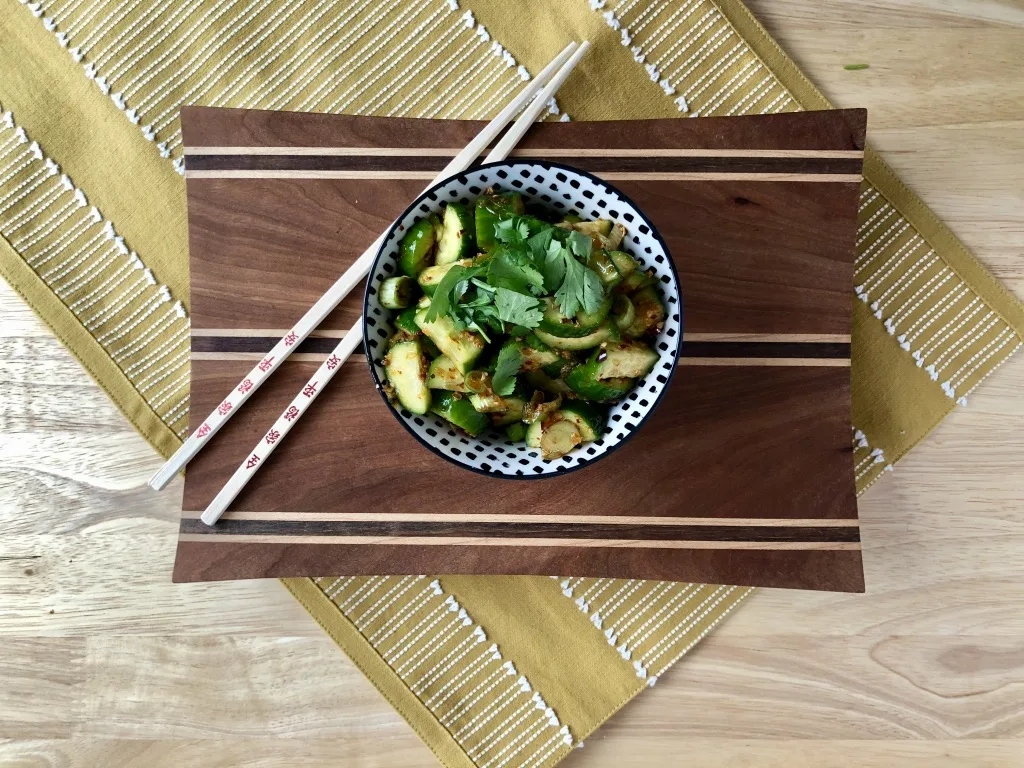 I've been trying to support local businesses, including this amazing noodle place close to me, but sometimes you just want to skip door dash altogether. Stir up these super quick marinated cucumbers to snack on when cravings hit.
What will I need for produce?
Scallions,
Silantro
Mini cucumbers. You can totally use normal cucumbers, I've just been seeing these mini ones more and more and love them for salads, snacking or these marinated cucumbers.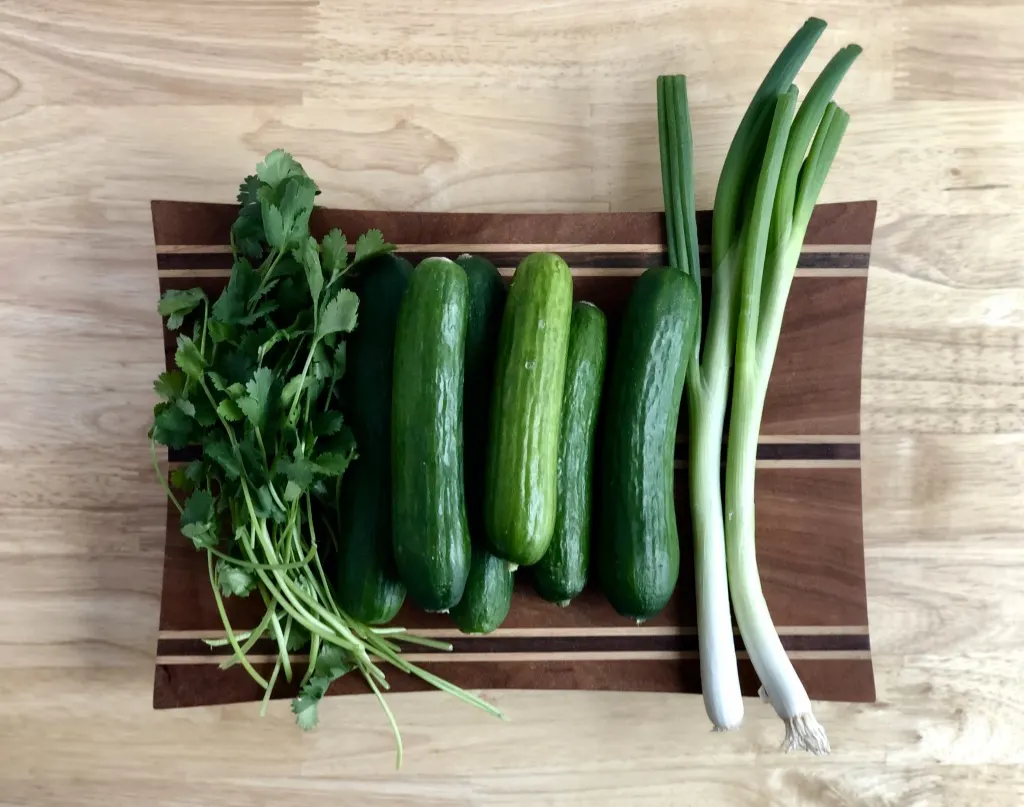 What will I need for the marinade?
Sesame Oil
Rice Wine Vinegar
Coconut Aminos
Soy Sauce
Sugar
Trader Joe's Chili Onion Crunch or red pepper flakes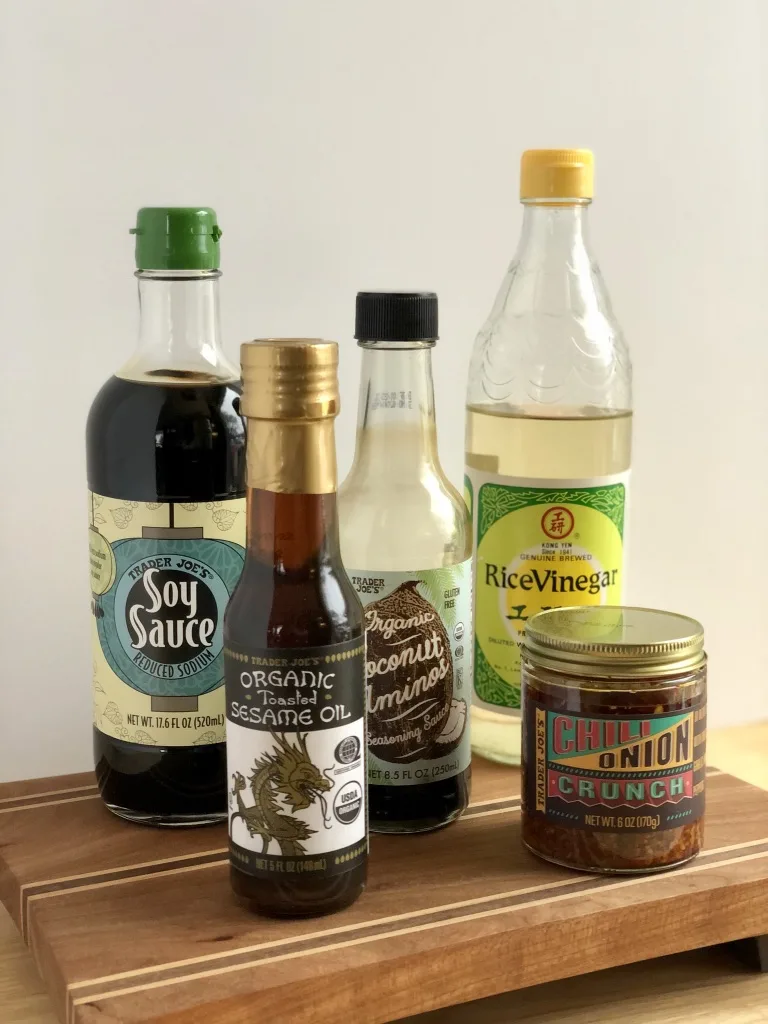 What's this Chili Onion Crunch stuff?
Well, it's chili and onion in crunch form with some oil. It's amazing on eggs, but works in this to add some heat and crunch. If you don't want to shlep out to Trader Joe's (you're no friend of mine if you hate on TJ's) then just grab some red chili flakes and shake away to your desired heat level.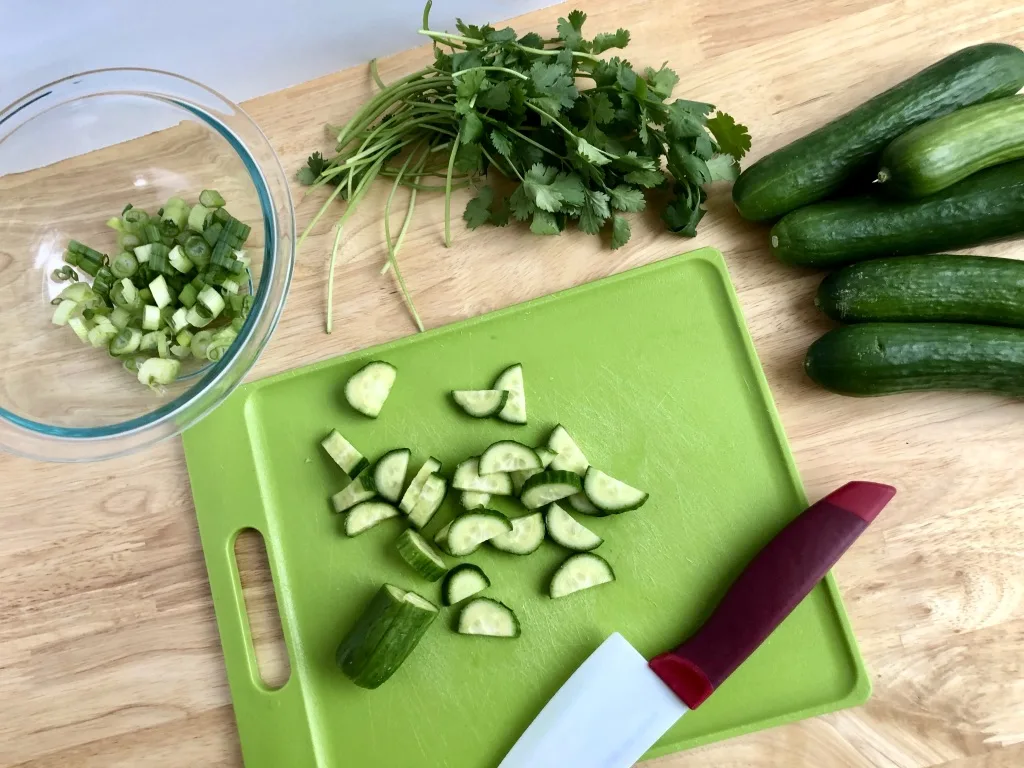 How should I cut the cucumbers?
However you want to – sorry that's not helpful and if you're actually reading this, God Bless You. But, I made them bite size so you can grab a few on a fork and chomp down. They are about 1/2 inch chunks so all the marinade can get into it easily and the chunks aren't too large.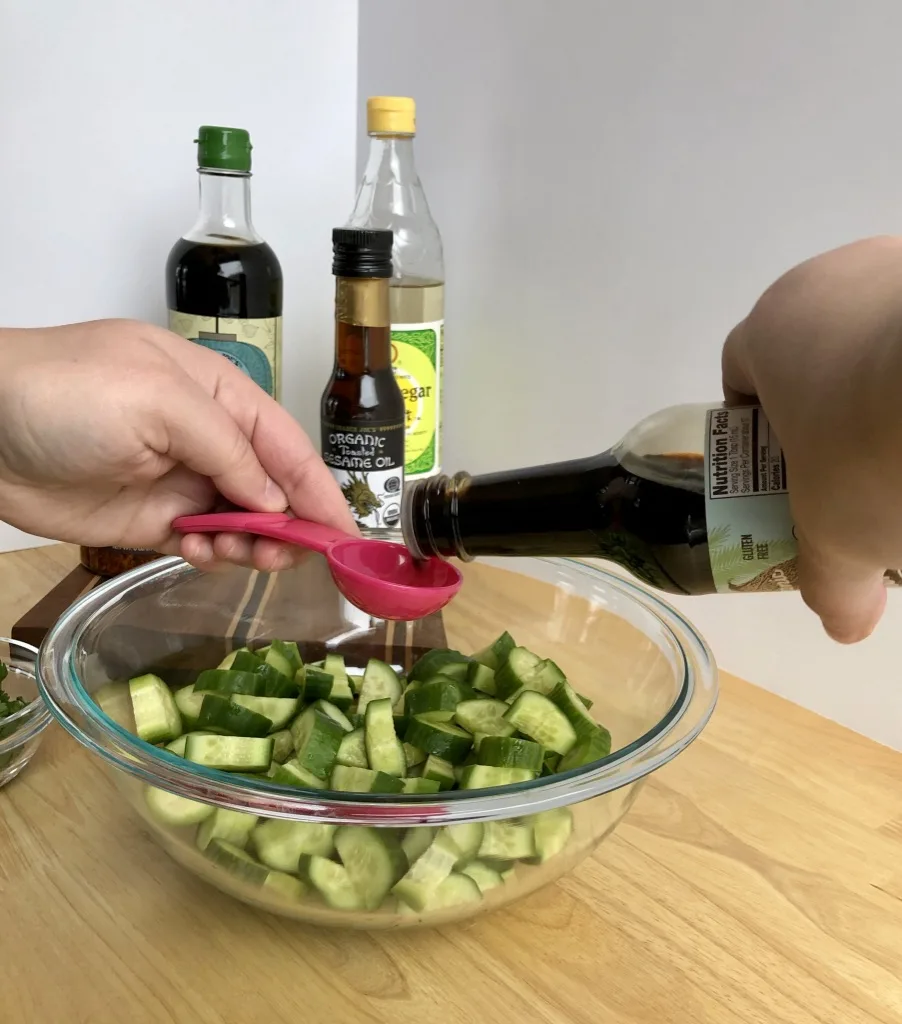 Instructions:
Chop the cucumbers into bite sized pieces. Chop up from scallions and chop up some cilantro (set aside for garnish). Combine all other ingredients in a bowl and stir together. Add in cucumbers and scallions and mix well. Cover and place in fridge for 3-4 hours before eating.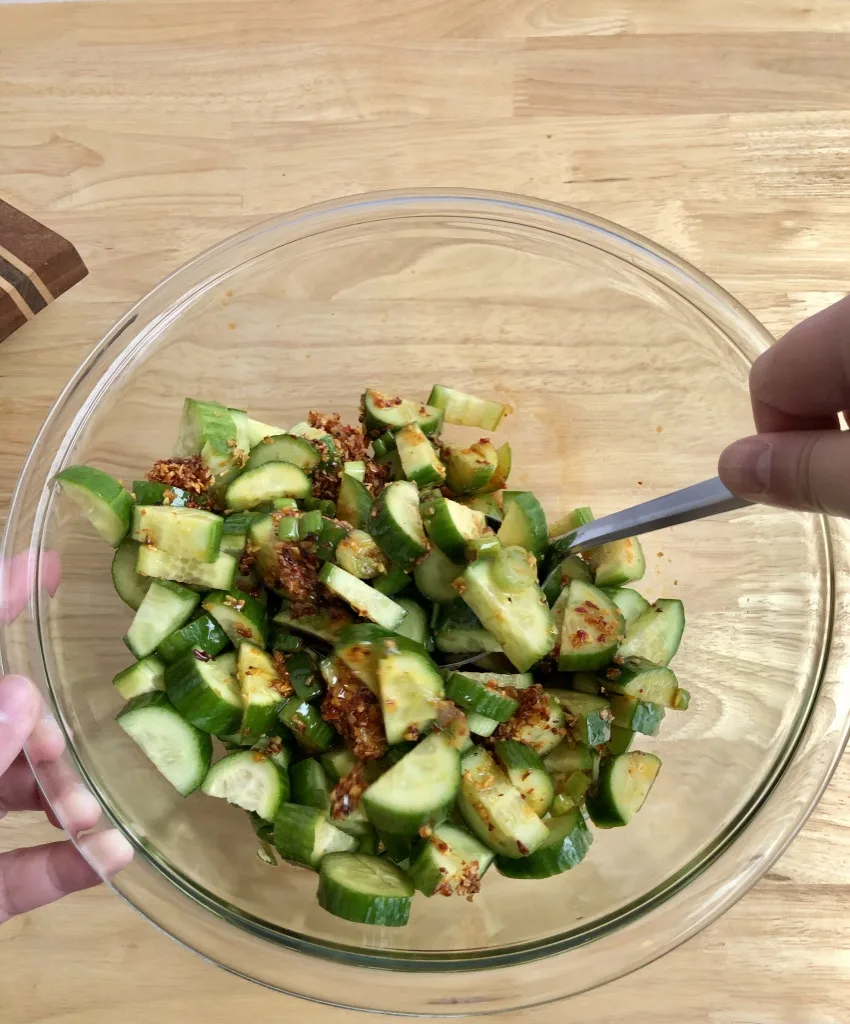 I usually just use a plastic container and mix it all in, then seal it up and put it in the fridge to let everything marry together. Let all that saucy goodness come together and then enjoy for the next few days whenever you need an umami-filled spicy kick in the mouth.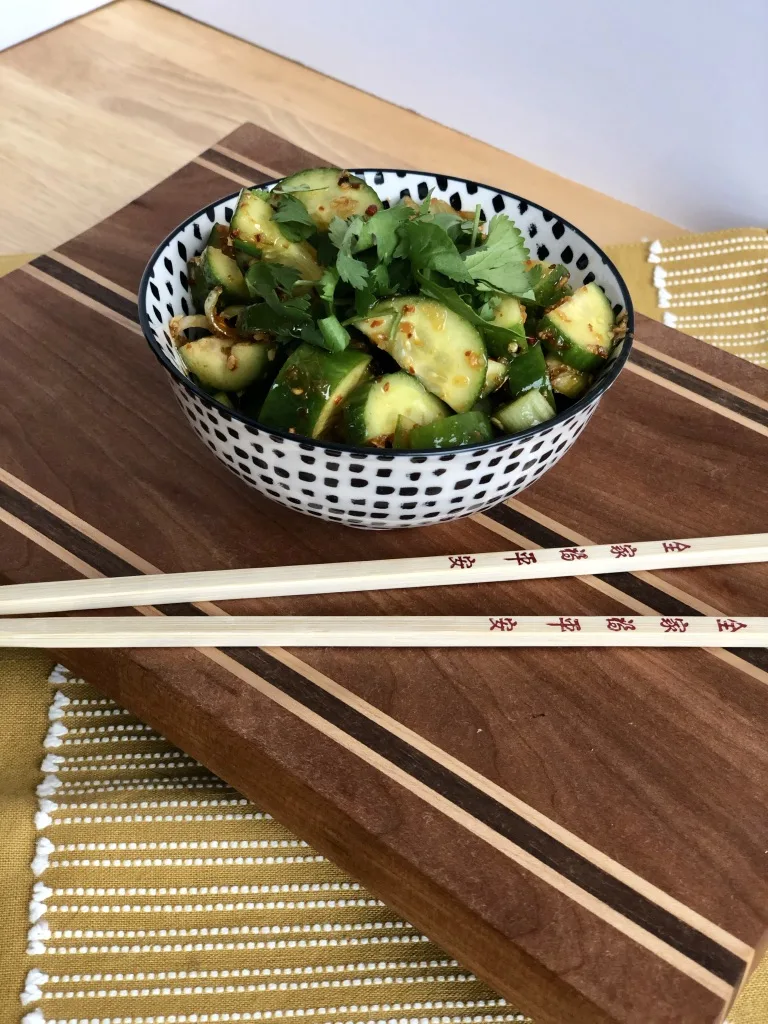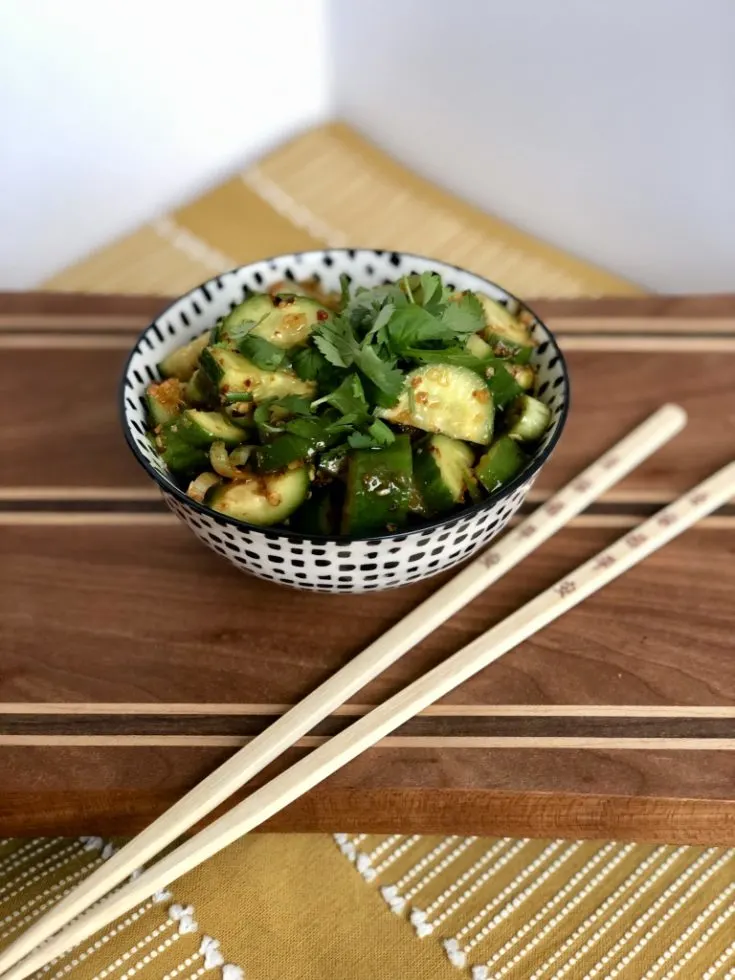 Yield:

2
Takeout Style Asian Cucumbers
These Asian inspired marinated cucumbers will remind you of your favorite takeout joint without having to Door Dash.
Ingredients
6 mini cucumbers
1 tsp sesame seed oil
1 tbsp soy sauce
1 tbsp coconut aminos
1 tbls rice wine vinegar
1 tsp sugar
1 tbsp Trader Joe's Chili Onion Crunch
2-3 scallions, green parts only
Cilantro for garnish
Instructions
1. Dice mini cucumbers into edible bites - I halved them and then diced.
2. In a bowl combine sesame seed oil, soy sauce, aminos, rice wine vinegar, sugar and Chili Onion Crunch and stir.
3. Add cucumbers and chopped scallions to the bowl and stir.
4. Cover with wrap and let them marinade in fridge for at least 3-4 hours.
Enjoy!
Notes
Keep in fridge for up to 5 days.