Blood Orange season is wrapping up, so make this citrusy vodka cocktail while you can. St. Germain ads a botanical note while a dash or two of orange bitters at the end brings together all the flavors.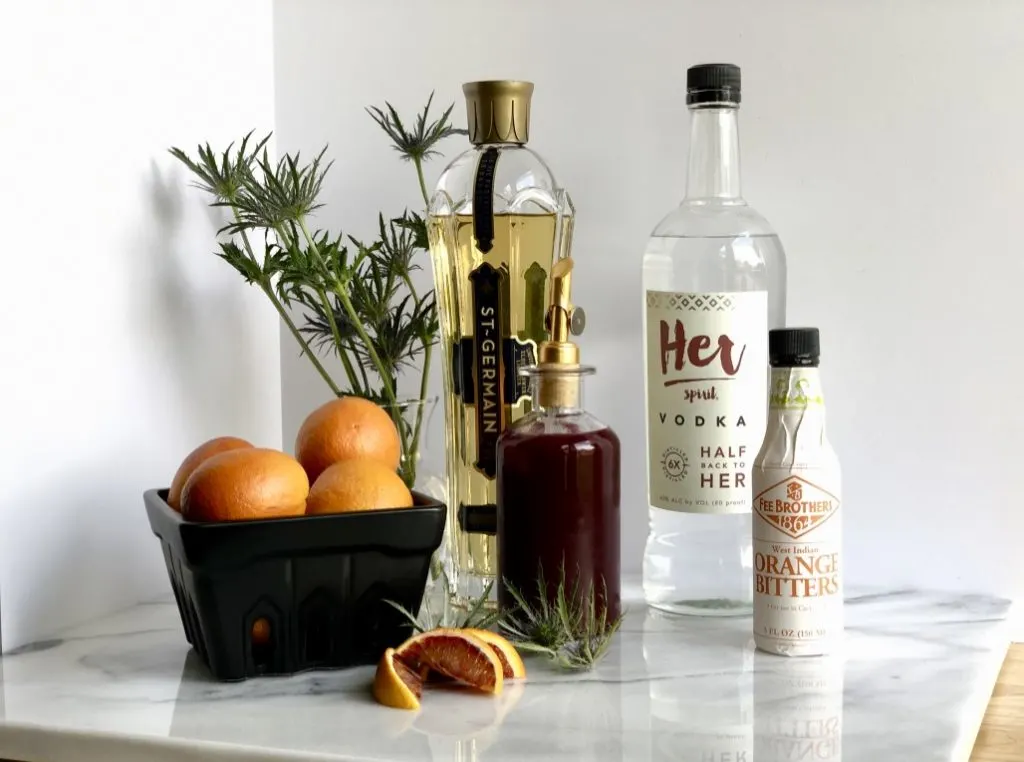 June was a bit of a rough month, recovering from surgery, then a back injury flaring up. Flaring up is a nice way to put that. Easy to say I was begging for a cocktail at the end of some days. (No medications were combined with alcohol, settle down.) Sipping this on my patio in the shade (check out my DIY Patio Umbrella) was a splendid end to a few days.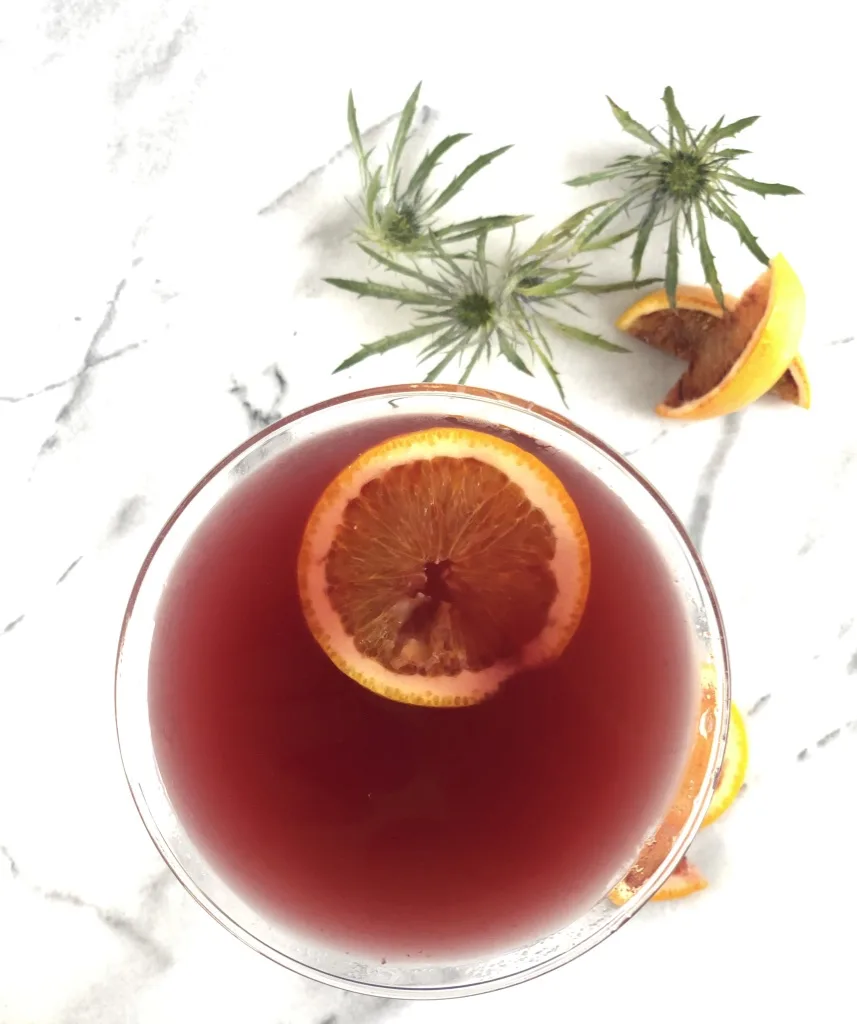 What is a Blood Orange?
Blood Oranges are a variety of oranges that are usually produced March to May each year. The "blood" or dark red color comes from a special type of pigment that is unique to this variety of oranges. The taste is said to be something of a typical orange crossed with a raspberry.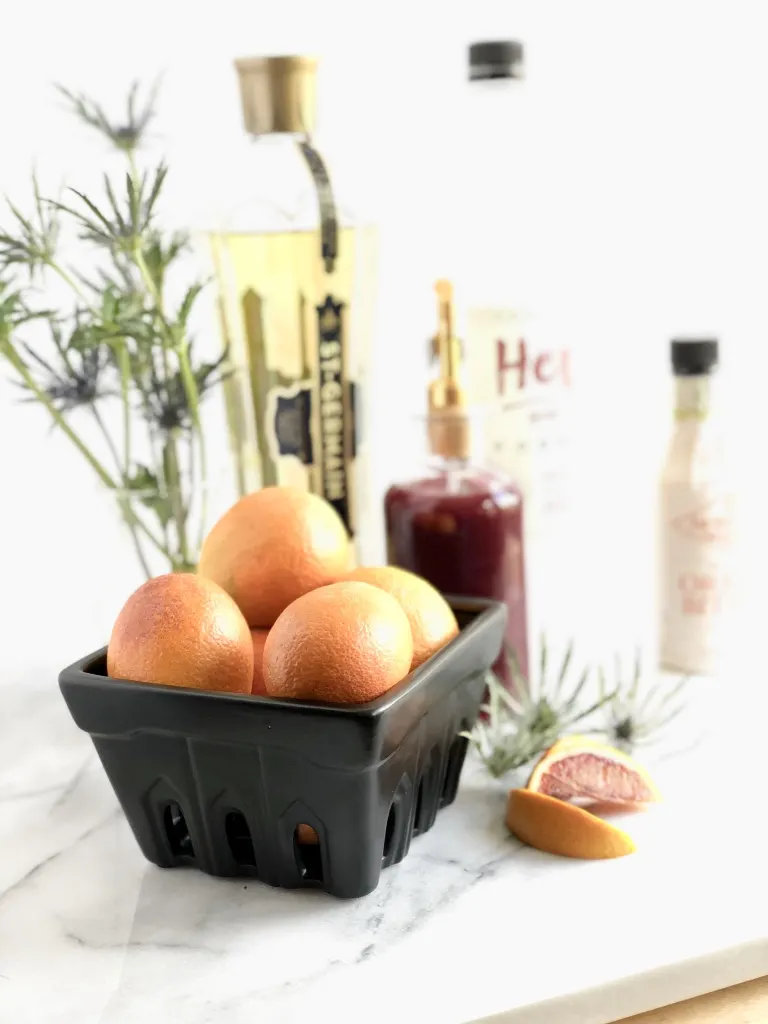 What are Bitters?
Bitters are basically the salt and pepper of a drink. Bitters can be made from basically anything: herbs, fruits, flowers producing a bitter or sweet flavor note at the end of tasting a drink. Bitters are used to balance out a drink, they engage other tastes to give a fuller flavor profile. It sounds fancy and intimidating, but it's not when you get a few, taste and play with them. You sort of feel like a made chemist.
The most popular are Angostura bitters, also called aromatic bitters. Think of Thanksgiving and Christmas candles, that's what Angostura bitters remind me off – dried herbs and orange peel. I have that along with lemon, orange and Peychaud's Bitters which I haven't played with yet.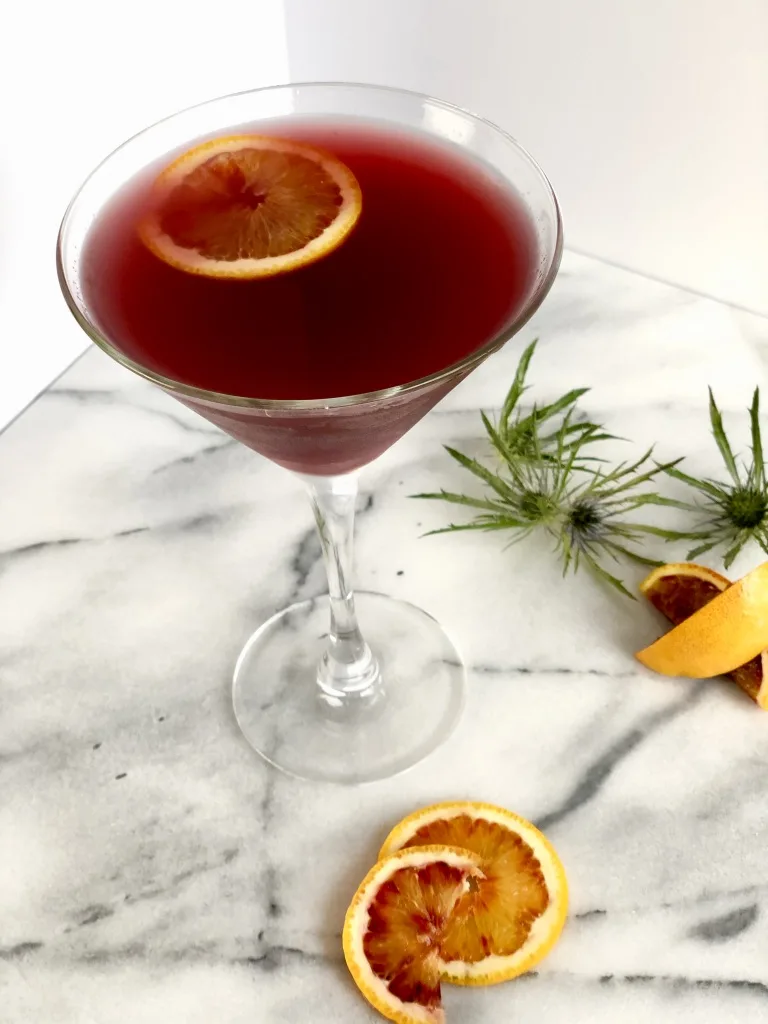 How do you juice oranges?
I suppose you could use a manual press like you do for lemons/limes – but then your wrists would be hella tired and you would hate yourself. You need quite a few blood oranges to get enough juice. I use this electric juicer, it's amazing.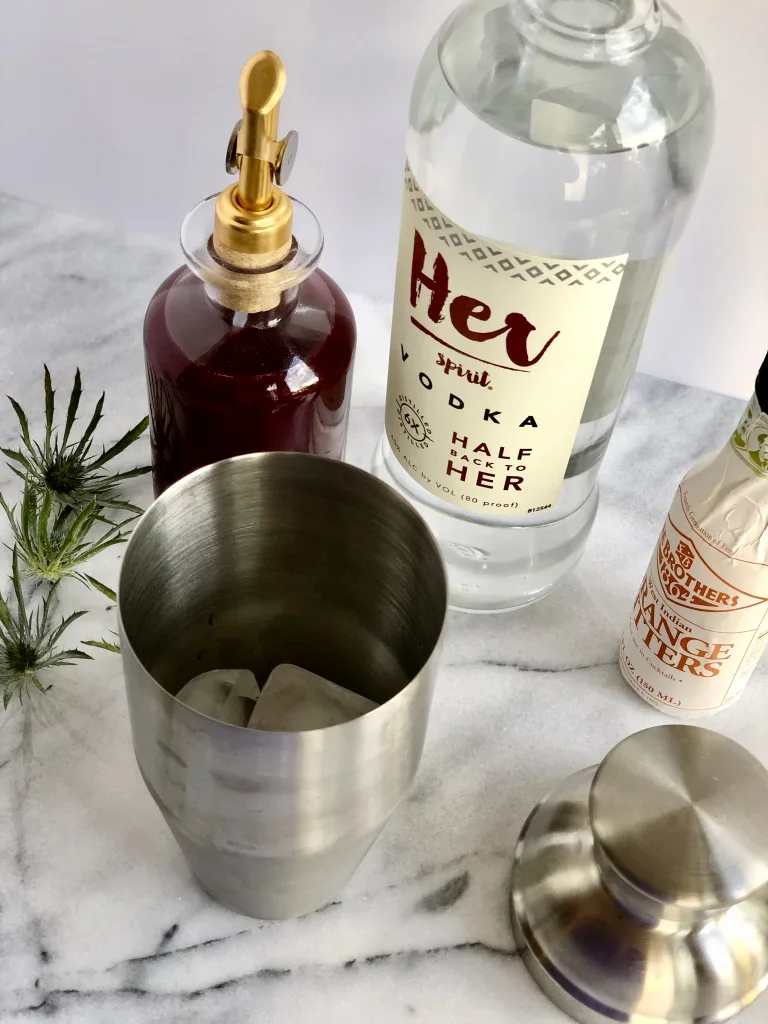 What do I need to make this?
You'll need:
Ice
Glassware of choice
Blood Oranges
Vodka
St Germain liquor
Orange Bitters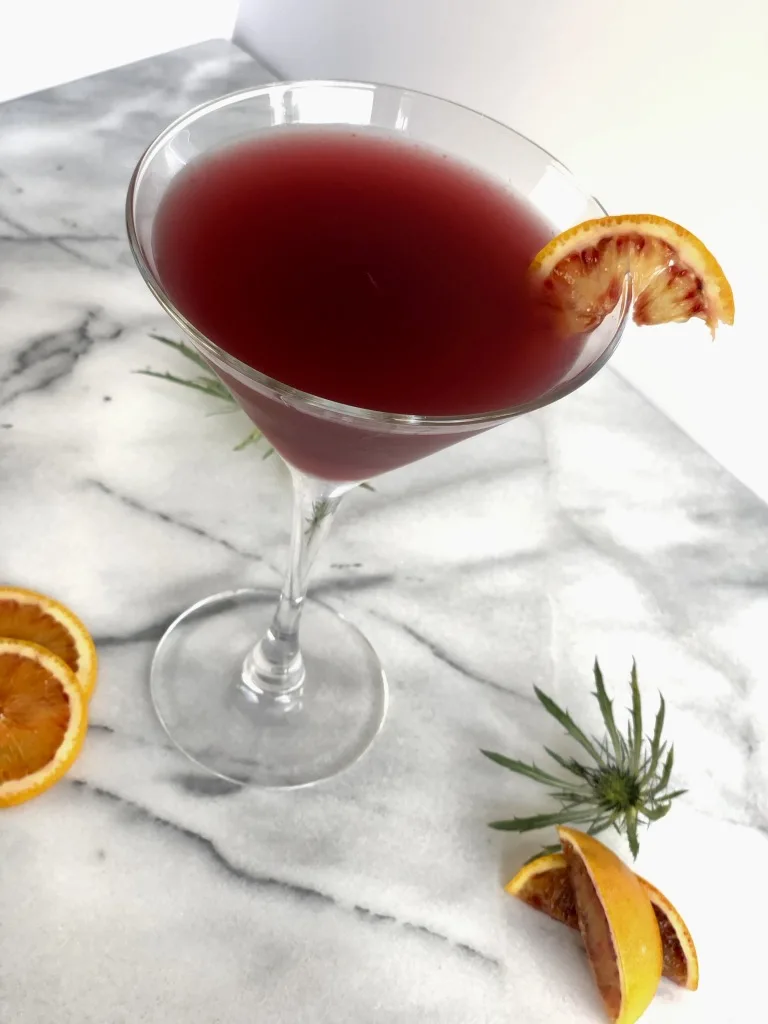 I hope you enjoy – Cheers!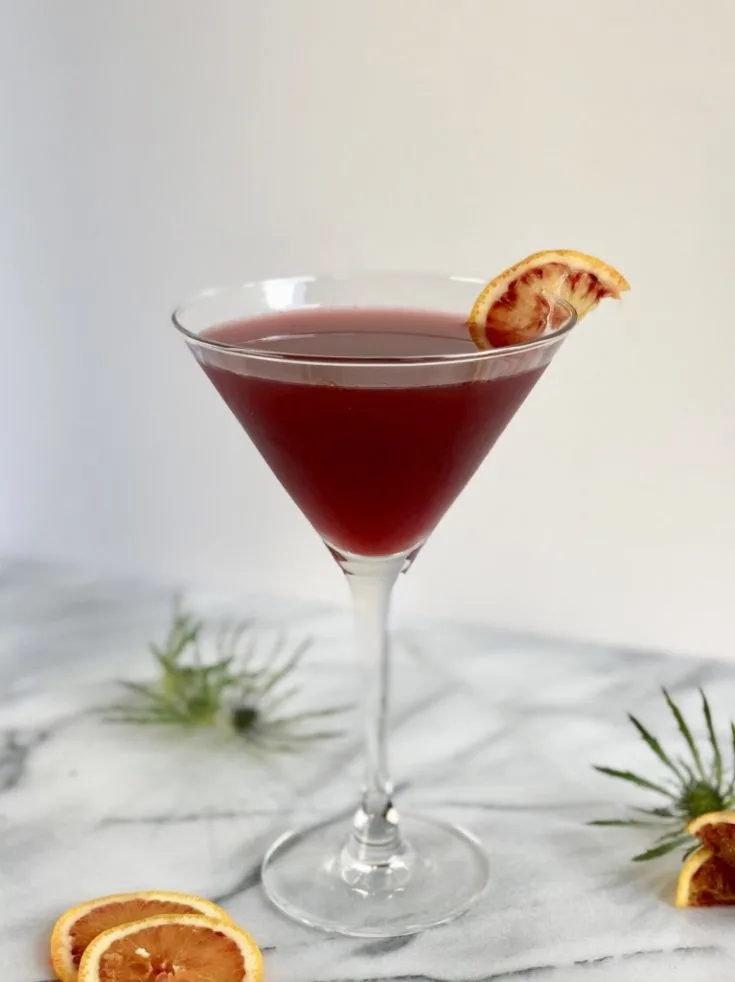 Yield:

2
Blood Orange Martini
Celebrate Blood Orange season with this subtle Martini made with smooth vodka, a touch of St. Germain and mellow Blood Orange juice tied together with a dash of Orange Bitters. Cheers!
Ingredients
3 oz Vodka
.5 oz St. Germain
1.5 oz Blood Orange Juice
Dash of Orange Bitters
Instructions
Juice Blood Oranges and strain any bits or pulp from juice
In a shaker with ice, combine Blood Orange juice, St. Germain and Vodka.
Do all the shaking to get this drink nice and cold
Poor In Martini Glasses
Add a dash of Orange Bitters
Garnish with Blood Orange Slices
Notes
I used a cobbler shaker for this drink along with almost overly-ripe Blood Oranges for easy squeez'n.
Nutrition Information:
Yield:
2
Serving Size:
1
Amount Per Serving:
Calories:

171
Total Fat:

0g
Saturated Fat:

0g
Trans Fat:

0g
Unsaturated Fat:

0g
Cholesterol:

0mg
Sodium:

73mg
Carbohydrates:

18g
Fiber:

1g
Sugar:

16g
Protein:

0g